Overcoming the post-pandemic stress in the Automobile Industry
June 30, 2021
2022-08-18 14:49
Overcoming the post-pandemic stress in the Automobile Industry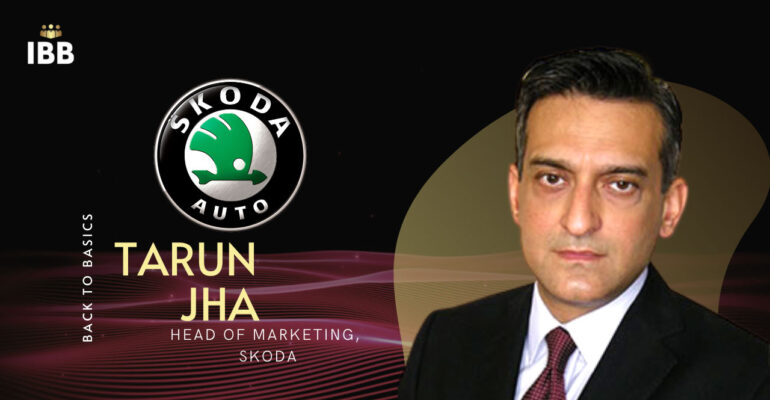 Overcoming the post-pandemic stress in the Automobile Industry
"You love a car and a car is a very emotional buy," says Mr. Tarun Jha, Head of Marketing, Skoda Auto India.
Often regarded as a man of flair, Mr. Jha has been associated with Skoda Auto India since 2008 and in 2012, he became the first Asian to be hired for the International Marketing Team, at the Headquarters of Skoda, in Prague with a background of working in developing market of diverse countries and environments. He has worked with illustrious advertising agencies like Mudra Communications Ltd. and Ogilvy and Mather.
Mr. Jha proudly divulges in an interview with Icons Behind Brands in their Talk-show series Back To Basics, "I started my life actually in advertising, not a person born in the automotive industry." He had made a glorious start in Mahindra and Mahindra, a mammoth name in the automobile industry: "I have spent three lovely years, learned a lot and that is the place where I fell in love with the business of automotive and then I joined Skoda Auto India."
In 2015, Mr. Tarun Jha arrived back in India with a wonderful mix of wide culture, global market, and wide marketing portfolio. "One country is different from the other in terms of the customers, their behaviours, their requirements, their needs when it comes to automobile; the types of cars that are sold there, the types of media that are consumed, customer journey of various places," mentions Mr. Jha.
In the recent outbreak of the Novel Coronavirus, the automobile industry had set a backfoot as the pandemic had a devastating impact on the economy of the whole country.
According to Mr. Jha, the pandemic situation has altered the way customers react and behave. They exercise great caution while purchasing cars, delaying their decisions many a time. There has been distress when it comes to financing- people are dubious about their jobs, businesses and so have chosen to desist their urge of purchasing a car at all. The idea of acquiring used cars is prevalent as people are not willing to commit a large amount of money to buy a car no matter how much they adore the car.
Some customers are looking for better value for money cars that are smaller and safer, and for value additions, buyback schemes, and leasing of cars while others prefer cab services.
One of the most subtle and major changes is that many customers are scared and thus, not willing to visit the showroom or workshops and so interaction with the dealers for sales and aftersales has increased dramatically through using the internet, phones, and video calls. Mr. Jha feels, "intervention of technology and the incidences of usage have gone up dramatically." The consumer's concern has moved more from financial security to a more value for money approach.
Across the automobile industry, every OEM is currently prepared to handle the change when markets open up. In terms of marketing, brands have become digital and are relying less on the physical aspect of business though they are aware of its importance.
The delayed launches will now transpire again. "Most of the brands will communicate the new products which are on offer," says Mr. Jha.
"A car is not just a medium to travel from place A to B, it is the part of your being, your statement, it is also your second home" is what Mr. Jha believes in as also that "automotive is a very emotional business-we buy a car for a reason however much we rationalize our minds there is a lot of emotions which are attached to it and can't be taken away". He says, all those aspects have to be communicated and revived as a part of his marketing strategy. He emphasizes focusing his strategy on technology and its convenience.
Mr. Jha quotes, "Car is not just a car it's a part of one's being-a lot of emotions are attached to it so it is crucial to connect to the customers emotionally rather than in a hard-selling strategy."
According to Mr. Jha, to overcome the challenges in the upcoming months the following methods should be implemented:
• The economy of the country should be revived again.
• Customer sentiment has to be changed from negative to positive.
• Physical movement across the country is to be restored.
• Global trade has to improve.
• Exchange rates have to be stabilized
He feels that out of the challenges, "some are very intrinsic to our country and some are very global in nature."
Skoda is a company known for its glorious history, technological innovations, crafty designs, and iconic cars. Owing to the situation being conducive for the last few months, physical customers have been very limited in the showrooms or workshops for fear of contracting an infection. To engage customers digitally, Skoda has built certain tools:
• Skoda is one of the first to start online booking of cars where customers can stay at home and pay online. www.buyskodaonline is a website initiated last year around the Auto Expo where people could easily book their car.
• Since customers were not willing to come to the showrooms, Skoda started a contactless virtual demo where one can stay at home and can talk to the sales consultant at the dealership who will do the entire demo and answer all the queries and doubts virtually. Thus, lessening the chance of picking up an infection.
• Skoda offers aftersales service online. Using their application or website one could do everything from easy booking of service to buying service package.
• Skoda constantly communicates with customers requesting them to stay at home and providing them with car care tips as the maximum of the cars remain stationary these days.
• Skoda launched a special programme for doctor customers to keep them moving so that there is no hindrance in their service to society.
When asked what is that which attracts us to the automobile industry, Mr. Jha remarks, "it is a deep-rooted desire of all human beings to be mobile" and it is what is to be fulfilled by the automotive business.