The Impact of Covid-19 in different sectors of Industry
June 20, 2021
2022-08-18 14:51
The Impact of Covid-19 in different sectors of Industry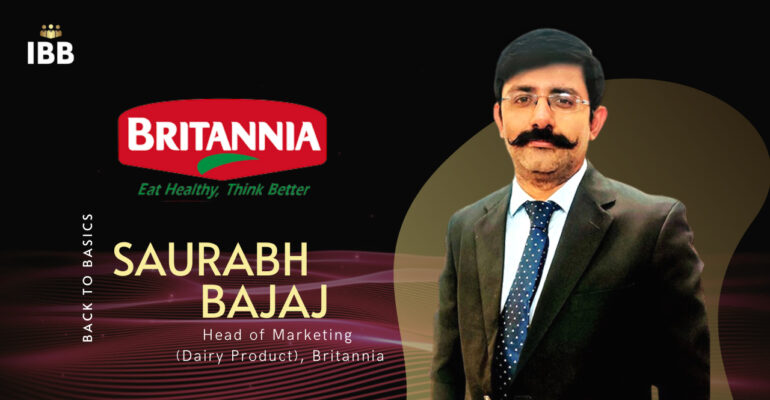 The Impact of Covid-19 in different sectors of Industry
"A marketing strategy is finely about communication, activation, and innovation," says Mr. Saurabh Bajaj, Head of Marketing (Dairy business), Britannia Industries Limited.
With inimitable communication skills, radical mindset, and positive attitude, Mr. Bajaj is an aggressive and dynamic brand strategist, an innovative marketeer, and a trendsetter who is an alumnus of IIM Indore and owns experience of 16+ years in the industry.
Mr. Bajaj has been the visionary behind substantial brands incorporating USL- Diageo Group, Mondelez International, and Wipro Consumer Care and Lighting before his alliance with Britannia Industries Limited since 2019. He was recognized as 50 Best Marketing Professionals by White Page International.
"Last year in March/April as we got into the pandemic, there was an expectation of 40% degrowth in GDP, that was the initial forecast; once they looked at the figure three months later there had been a degrowth in April but it was of 24%," quotes Mr. Bajaj speaking of the impact of Covid-19 on the industry as a whole. After the first month into the pandemic, the economy started recovering quicker than expected and the eventual impact was actually in single digits through negative which was nothing in the line of the disaster that was forecasted.
"The FMCG as a whole was to some degree cushioned because it is a very back to basics industry that you and I need for our everyday living; In fact, the food category benefited last year because all the restaurants and entertainment areas were shut down and the total quantity of food that we need to consume does not really shift; So, a lot of business moved from restaurant food towards packaged food categories," declares Mr. Bajaj in a recent interview with Icons Behind Brands in their video Talk-show series Back to Basics. Last year, "overstocking" became prevalent owing to the fluctuating availability of daily groceries. During the pandemic, people used UHT milk for the first time while new-age food categories like Kellogg's proved utterly beneficial to them.
Online food delivery services like Swiggy and Zomato were hit and were replaced by new services like Foody Buddy.
Mr. Bajaj feels it is really important for a marketeer to understand how people are feeling and how they are doing. If one can get the pulse of these two areas it is possible to build a marketing science.
During the early phases of the pandemic when there was a fresh shutdown and a state of confusion prevailed, communication played an important role.
The other major role was that of innovation. "Marketeers need to be very careful because innovation is a tool that can make or break companies; If you go out there and do all kinds of unreasonable innovations you will not have the money to support your innovations and land into a tough situation," points out Mr. Bajaj.
The last thing of importance is activation. According to Mr. Bajaj, "it is important for companies to realize the only way to damage yourself during the pandemic is to stop communicating; the companies that didn't do well for the last year or this year are those who said that they did not know what's going on and should stop the investment."
One of the most important factors for marketing is brand messaging and "the other part of brand communication that is now the right thing is moment marketing" says Mr. Bajaj as also, "it is the pandemic that has driven a sudden synergy of behaviour where every one of us is seeing the same thing at the same time, worrying about the same topic at the same time and facing a lot of similarities in what we are engaging with." This allows a lot of guerrilla marketing or moment marketing opportunities. "Being agile and being on your toe and looking at the trends is something at which marketeers should always keep an eye" instructs Mr. Bajaj.
The two largest sources of government revenue are alcohol and tourism. Tourism makes a lot of our budget stick so, the one sector which has got impacted the most is the tourism sector. Staycation is a trending concept among the people these days where one can just cut the travel time and instead of going on a regular vacation can just visit the outskirts of the city, they live in. We all hoped to see the international vacations resume this year but unfortunately, that did not happen. According to Mr. Bajaj, "the future tourism is going to be about safety protocols for the major change that will take place is going to be the likings of health and hygiene because the after-effects of the pandemic are going always so quickly."
The second largely impacted sector was that of alcohol. "Alcohol as a category for the longest period has talked about home delivery because home delivery was not allowed, delivery was allowed for restaurant foods and other such products," says Mr. Bajaj. He feels that one controls alcohol because of the antisocial elements or the possibility of filling something unlawful so, "if somebody is enjoying his drink at home it's unlikely that he has got any malicious intent in mind; hence, the home delivery of alcohol is something that should become mainstream."
The third sector which got impacted quite massively was that of fitness. New age entrepreneurship like Cult Fit and Gold gym has become the darlings of the stock market, has led the charge by letting celebrities into the action. Here, one can embrace the digital fitness model through the screen of one's laptop and attend live classes with celebrities or top coaches.
The fourth sector which got impacted was the Shaadi market. Shaadi.com introduced a phenomenon where a simple Zoom call can be turned into a Shaadi meet which is yet again a large pivoting from another large category.
The last category which got heavily impacted is the retail sector as people took more to online shopping and to combat the situation, the retail giants are introducing pop-up stores in the safety of the societies.
In today's world, most people are aware of concepts like online education, e-commerce, online or digital payments, and UPI wallet payments. "These are learned behaviours that require marketeers and manufacturers to start thinking about the future," recommends Mr. Bajaj.
Mr. Bajaj has altered the concept of VUCA optimistically and opportunistically, "A lot of people believe that this is a time of volatility, uncertainty, complexity, and ambiguity but what we reflected on is that you can still redefine the same by vision, compassion, understanding, and agility."