How has the pandemic given way to the Digital Age
June 25, 2021
2022-08-18 14:50
How has the pandemic given way to the Digital Age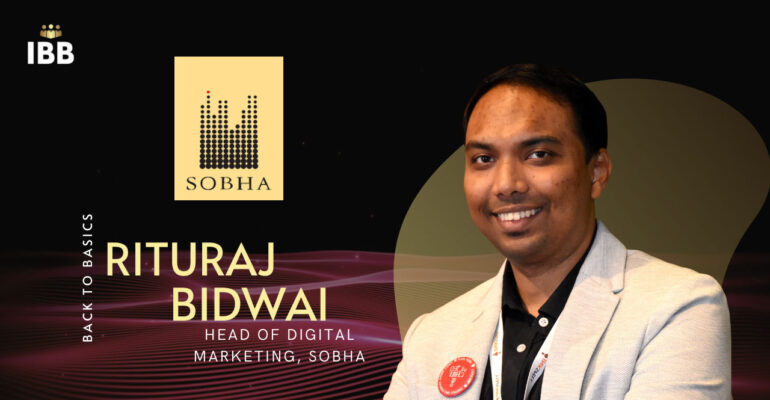 How has the pandemic given way to the Digital Age
"The current pandemic has shaped the consumer's thinking and choppy behaviour but they are not following aspects we need to keep a watch for," quotes Mr. Rituraj Bidwai, Head of Digital Marketing, Sobha Limited.
Humble, cooperative, competent, and highly organized, Mr. Bidwai is a very dynamic and creative digital marketing leader who has an undeterred commitment to his work. He owns experience of a decade in Marketing and Brand Communication.
Mr. Bidwai has worked with several substantial companies like Mahindra Susten, Reliance Petroleum, Tata Capital, L&T Mutual Fund, and Godrej Nature's Basket before his alliance with Sobha Limited in 2020. Astute understanding of various digital marketing channels conjoined with stout technical knowledge renders him an expert in implementing brand-related campaigns.
An alumnus of IIM Calcutta, Mr. Bidwai is a commendable recipient of the Asia Retail Congress and CMO Asia Brand and Marketing Excellence Awards. Featured amongst the Top 100 Smartest Digital Marketing Leaders in the country as of February 2019 by CMO Asia and Digital World Marketing Congress.
The outbreak of Novel Coronavirus has affected almost every industry as there has been a huge shift in the mindset, behaviour, and lifestyle of the consumers. In an interview with Icons Behind Brands, in their Talk-Show Back to Basics, Mr. Bidwai enlists the crucial factors that would play an important role for the industries in the prevailing pandemic of Covid-19.
The first factor is functional purchase diverse where the consumer will focus on the core value of the product and the peripheral benefits will be ignored because the tangible value will be given more importance.
The second factor is price, which will majorly affect sectors like Food and QSR. "The consumers are trying to meet ends so, staples and groceries will be affected by price," remarks Mr. Bidwai.
The third factor is brand consciousness. "If you look at loyalty towards brands, it will be critical in categories like Health, Food, QSR, and even Automobile for that matter," says Mr. Bidwai. A recent survey shows that consumers who buy staples from known brands shoot up from 38% to 61%. According to Mr. Bidwai, "online media will be a key influencer in purchase decision; In that particular media the influence has increased by 10% as compared to pre-COVID times."
The last factor is accelerated shift towards online digital channels as in this pandemic,
people have taken more to digital channels.
"The two segments where we have seen an amazing growth is groceries and snacks; These two sectors have seen a rise in online movement by 3X pace while makeup and personal care products saw a rise of 40% in their online fulfillment," remarks Mr. Bidwai. People are discovering more portals and brands in the online space, and that is the impetus behind companies like Nykaa having focused more on online space.
"If you look at OTT consumption there is a drastic rise in the viewership of the subscribed services; Around 80% of the content consumption shifted from and remained online during the pandemic," declares Mr. Bidwai. Gen Z and Millennials both focus frequently on central consumption and upscaling. "Essential items received over a third of the share of wallet for the Millennials and Gen Z," remarks Mr. Bidwai. People are now spending more on new categories like content and learning.
During the pandemic of COVID-19, a marketeer's mind has changed drastically as also the adaptability of the marketing. From a marketeer's perspective, there are a few important aspects that should be duly noted:
Local SEO– "This will garner maximum momentum because hyperlocal content has to be focused on when you are fulfilling consumer needs on the go," says Mr. Bidwai.
Product quality– This is the most important aspect as, "it will be a game-changer because online reviews matter in that aspect," remarks Mr. Bidwai.
Online shopping– During the lockdown, Gen Z has increased their online shopping base 2.5 times from 20% to 30%, and Millennials, on the other hand, have doubled their online shopping base from 16% to 32%.
"If you want to cater to your audience in this particular environment then you have to look at online shopping ads, local inventory ads, and other ads," suggests Mr. Bidwai.
Virtual becomes the next physical-Nearly 70% of Gen Z and Millennials are agreeing in the likelihood of subscribing to online education in post-pandemic.
"Podcast and Clubhouse are the two important platforms that are marketeer needs to look at because they seem to be getting a lot of attention these days," says Mr. Bidwai. Recently, Clubhouse has been launched in India on Android and is something very new. Hence, more information is required to leverage the platform.
"The best part is that it's all conversations on Clubhouse; As it is voice-based, you don't have to sit in front of the screen and give attention to it," says Mr. Bidwai. This in turn helps to reduce screen time fatigue which has crawled into people's minds over the time being. According to Mr. Bidwai, "Consumer's attention is reducing and is the reason why podcast and voice-based content is getting more trusted."
In the prevailing state of precariousness, a financial policy like interest rates plays a major role when consumer sentiments are concerned.
When we consider digital marketing space, the future, and the present of marketing, we get to see that a huge part of the marketing budget has shifted to digital marketing space. "What is most important is keeping an eye on consumer sentiments; We need to stay focused on understanding the audience well," suggests Mr. Bidwai. To understand the consumers the answers to the following questions need to be decoded, "what kind of content are they consuming; If your brand fits into the target audience's decision or not; What kind of apps are they using or what kind of apps are gaining more momentum; That gives certain pattern and trend to the marketeers to decipher things."
Lastly, Mr. Bidwai points out that, "it depends in what sector you are in and what kind of psyche the customer has, if that matches, marketeers will be through with that."