How did the Healthcare Sector survive the pandemic?
July 15, 2021
2022-08-18 14:45
How did the Healthcare Sector survive the pandemic?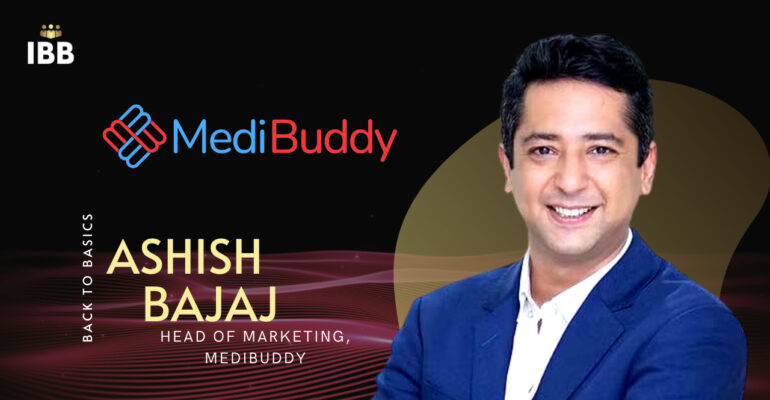 How did the Healthcare Sector survive the pandemic?
"There is a dire need of having quality healthcare services available to Tier 2, Tier 3, R1, R2 kind of cities and locations in our vast geographical country," remarks Mr. Ashish Bajaj, Head of Marketing, MediBuddy
Mr. Bajaj is a Marketing professional with expertise in not only creating consumer-facing communication but with complete knowledge of Media and key expertise across consumer understanding, touchpoint planning, and optimization.
Mr. Bajaj has achieved many milestones in his illustrious career from being the first one to represent India at the Young Cannes Lion India Media Competition at Cannes Lion to emerging as the gold winner of the Young Spikes Asia Media Competition at Spike Asia, Singapore in the same year. He was also awarded the Media Professional of the Year in 2020.
Mr. Bajaj has been associated with substantial companies like DocsApp, Nokia, Microsoft, and Ola before his alliance with MediBuddy in 2020.
"Since the pandemic started, the digital healthcare platforms or telemedicine or doctor consultation online- all of these industries put together into a digital healthcare platform," says Mr. Bajaj in a recent interview with Icons Behind Brands in their Talk-show series Back To Basics. These categories are shown tremendous growth in and after the pandemic period. As per the latest numbers, in the last six months, the Google Play store has added 270 more medical apps which are predominantly not only doing telecommunications but also some facade of healthcare online.
MediBuddy is one of the early starters in the pharmaceutical category and has been around us for a long. "We are a market leader and have been helping out millions of families touching 15 to 20 million users," informs Mr. Bajaj.
The current healthcare structure is in dire need of technological advancements to service the billion Indians.
During the pandemic, a lot of information and misinformation were floating around us simultaneously. So, it was the need of the hour for a person to receive accurate information in an organized way to avoid the unnecessary struggle of gathering it.
The health care category was never into building brands or trust or hand-holding the customers.
"Earlier in the consumer journey, we had to tackle three different kinds of consumers- patient, payer, and provider; All of these are different and not a straight line as for any other industry," says Mr. Bajaj. The education sector is similar to the healthcare sector to an extent.
With the abundance of digital healthcare platforms coming in, it has become much more important to focus on the patients because nowadays, the patients have the power in their own hands which moves them into preventive and wellness space rather than a prescription-led healthcare space.
Building brand and trust with the customers have become primary for any pharmaceutical or healthcare company. One of the very important parts of a brand, especially health care segment is, right messaging, "if you keep your communication objective as simple to the core to the needs of the consumer, cracking a good communication out of it is going to be an easy job for any marketeer to be," informs Mr. Bajaj.
"From our point of view, we are trying to evolve our strategies and insights because consumers are changing," says Mr. Bajaj. Earlier, the consumers were dependent on referrals but presently, the consumers take the decision based upon their research and reading of reviews.
According to Mr. Bajaj, "the health care category has now moved from fearful marketing to trust-based marketing; We are further moving into the next level by making it in terms of purpose marketing."
It is important to highlight the specific days related to one's health marked by WHO or such organizations around the world to predominantly spread awareness about a particular disease. Thereby, making it easier to be perceived.
In the pharmaceutical sector, too many brands are trying to reach out to one consumer. This is a tricky situation both from the business and marketing points of view. "Promotion and price are what can make you win if you are taking everyone's service at an equal line," informs Mr. Bajaj.
Owing to India not being an early adapter is itself a challenge. But at the same time, we have witnessed a time when everybody moved digital drastically which brought a change in consumer behaviour and thus, aided digital platforms to grow eventually.
These days, people have started ordering medicines online. People with chronic diseases have to have their monthly check-ups prescribed by their doctors which eventually saw a rise in home sample collections in all of the diagnostic centers.
A complete evolution has taken place where the pop-up stores in the community have started acting like an application where one can easily order items through WhatsApp.
The shift which has happened to all of us in the last 1 ½ years has been exponential. People have become more self-reliant and digital-savvy which proved to be a great move for our entire ecosystem.
The segment which never felt digital is now empowered which makes us feel more connected to each other.
The demand of healthcare or pharmaceutical sectors for digital space is independent of the status of the market. It is important for them to:
Create a trustworthy brand.
Keep the customers at the centre and try to handhold them showing all the empathy possible to provide them with quality healthcare.
When the market opens up, there can be a possible shift in terms of the queries or issues addressed previously to the healthcare sector. When people will have the life as it was supposed to be there might be a shift in a lot of preventive habits which had cropped up a year back.
"The impact of various media channels is different and leaves an everlasting impact on the people," says Mr. Bajaj. Instead of zero communication, it is always recommended for companies to communicate through some media. By doing so, they are still creating their brand.
Mr. Bajaj suggests marketeers be:
Methodical
Keen to learn and take the feedback willingly.
Patient
Experimental after being completely aware of the pros and cons of the experiment.