How Brand Messaging and Communication has evolved over the years
June 10, 2021
2022-08-18 14:53
How Brand Messaging and Communication has evolved over the years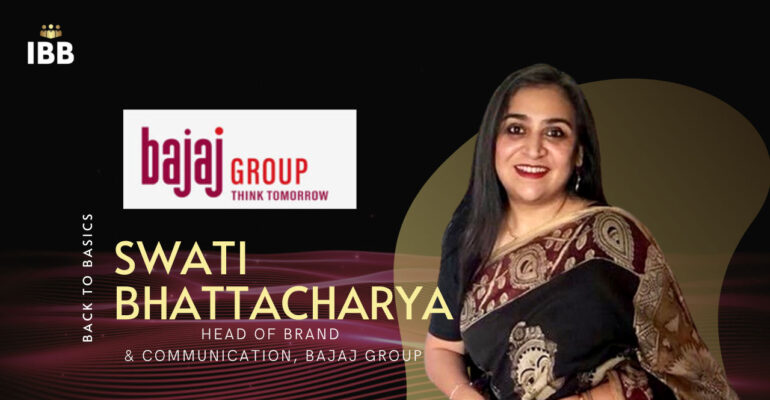 How Brand Messaging and Communication has evolved over the years
"I was quite of a simple intern when I came out to the big city looking for a career; It has all been a lot of hard work and always been learning on my toes; Fortunately for me I have met some great people in my career who have mentored and from whom I have learnt," expresses Ms. Swati Bhattacharya, Chief Communications and Brand Officer, the Bajaj Group.
Creative, knowledgeable, skilled, and prudent, Ms. Bhattacharya is a Public Affairs, Marketing Communication, and Corporate Social Responsibility strategist with over 26 years of work experience in advocacy, corporate relations, branding, internal and external communication, and market creation. She has been associated with substantial companies like CK Birla Group, General Motors, Ingersoll Rand India, and Agilent Technologies before her alliance with the Bajaj Group in 2019.
Ms. Bhattacharya is expertise in diverse fields like Engineering, Technology, FMCG, and Retail sectors. She is the Honorary Regional Director at CASI (CSR and Sustainability Institute) and also a Founding Member of the Indian chapter of GWPR (Global Women in PR).
Ms. Bhattacharya is the winner of the ABP News Women Super Achiever Award for Brand Excellence, supported by the World Marketing Congress, CMO Asia, and CMO Council USA and endorsed by the Asian Confederation of Businesses.
Ms. Bhattacharya is also a storyteller, "Recently one of my stories was selected for compilation of short stories called the Happiness Quotient- 20 short stories from 20 writers across the country."
"My father used to be a journalist, he was a passionate writer and passionately wrote about causes he believed in; I would watch him and wanted to be like that, and use the power of words to tell these compelling stories or change the narrative; That is what I wanted to do but life had other plans for me, I am still telling stories but a little differently," discloses Ms. Bhattacharyya in a recent interview with Icons Behind Brands in their Talk-show series Back to Basics.
The family has always been an integral part of Ms. Bhattacharya's life as she rightly puts it, "my family has been my superpower in many ways."
"When I started 26 years ago, there was nothing at that point; All brands were dependent on word of mouth, advertising, PR coverage, but that has changed drastically," says Ms. Bhattacharyya. In today's world, owned media is the big leap that has caused marketing and brand communications' people to be at the centre of the entire universe.
"In those days, we used to talk on landlines, used to fax, email was still becoming a thing; Websites were still coming up- people were trying to figure out how to make a good website; So, if you think of that time and now there is a huge change," remarks Ms. Bhattacharya. These days, with the evolution of digital media, brand, and communications' people have gained more control over the messaging as it takes minimal time to publish news or any information about one's company and it reaches the stakeholders conveniently.
However, the easy accessibility of digital media also has its demerit or the dark underbelly. It gives rise to a lot of fake news which may prove catastrophic to any brand. "This is a battle communication and brand people fight the world over, it keeps us on our toes," declares Ms. Bhattacharya.
The advent of video and audio streaming, the huge Internet penetration, and affordable phone connections, it has put the consumers in a powerful position where they decide the content they wish to consume. This is a crucial factor for messaging and the communication and brand people should deem it important to sell the right kind of content for the people to consume.
Despite all the changes happening around, the one thing that has remained constant is strategic messaging. According to Ms. Bhattacharya, "no matter which industry or market you serve, you have to have good key messages and keep retreating them at every given opportunity."
"Today people don't buy a product anymore, they buy into the value of a company and that's where it is so important that we appropriately communicate accurate messages," quotes Ms. Bhattacharya. Whether a brand wishes to or not, it is communicating something or the other by whatever it does. Hence, it is important to communicate the accurate message consistently and authentically as it helps to build brand personality and instills trust in consumers.
According to Ms. Bhattacharya, "the pandemic has shifted the focus on internal communications where organizations are more concerned about the welfare and mental and physical well-being of their employees." During the pandemic, it is likely that brands cannot do business as usual. "Stakeholders think that every brand stands for a higher purpose and this is the time to talk about that purpose and send that out in everything you do," says Ms. Bhattacharya. This has been major learning in the time of uncertainty.
The other learning offered by the pandemic is that authentic communication is very important. "Every message you send out has to be empathetic and thoughtful; It cannot be a regular business anymore," remarks Ms. Bhattacharya. During this period of crisis, the leaders that come across as thoughtful and empathetic will make sure that their brands emerge as a trusted one.
Ms. Bhattacharya points out that, "digital today is just not a medium of communication, it has become a business strategy." Owing to its convenience and easy accessibility, digital media has gained wide popularity in today's world. "Digital medium has broken down geographic, socioeconomic and demographic barriers- it has become all-pervasive; So, digital is the most important medium right now," states Ms. Bhattacharya.
To deal with the post-pandemic stress prevailing in the industries, a marketeer needs to pay heed to certain things:
It is important to develop the agility to adopt new technologies and trends without letting go of the proven methods of traditional communication and marketing.
It is important not to jump onto every bandwagon and learn from early adopters.
It is advised to make small experiments and bets to get on with a new trend or technology.
It is advised to read and understand every aspect of a business for one's betterment.
Lastly, it is important to work hard as there is no shortcut to success.
Ms. Bhattacharya believes in the VUCA model, "we have to survive in this volatile, uncertain, ambiguous environment and the complexities that it gives us; So, we have to be agile, learn quick and think on our feet."