The pre and the post-pandemic world of Entertainment
June 5, 2021
2022-08-30 8:47
The pre and the post-pandemic world of Entertainment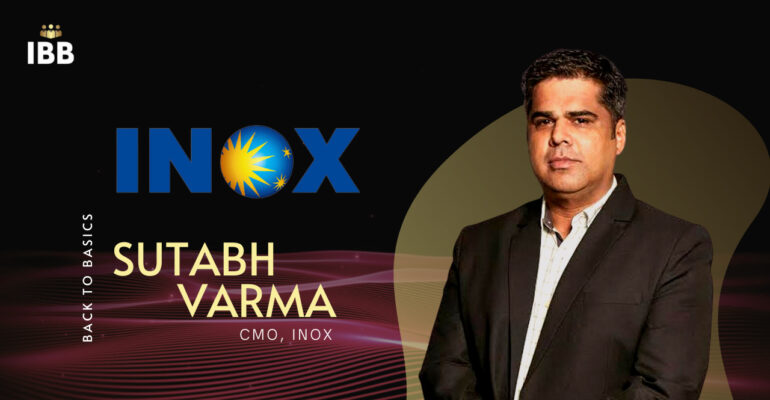 The pre and the post-pandemic world of Entertainment
"We were more of the child of destiny, we were given something and we lashed onto it; Today's generation can preplan their career," quotes Mr. Saurabh Varma, Chief Marketing Officer, Jio Studios.
Vehement, exuberant, innovative, and cinematic, Mr. Saurabh Varma is a competent and staunch marketeer with over 24 years of experience in Content Creation, Production, Filmed Marketing, Film Exploitation/Distribution, Film Programming, Content Acquisition, Cinema Management, Movie Promotions, Strategy Development, Developing Film, Production, Cinema Process and Systems, Cinema Tactical Marketing, Brand Building, Advertising, Cinema Launch, Corporate Communications, PR, Event Management, Visual Merchandising, Merchandise Development, and Promotion.
Mr. Saurabh Varma supervises pan India marketing, brand, and content operations. He has been a part of 750 films in almost all Indian languages and has written and directed feature films including 7 Hours to Go, Mickey Virus, and Marathi film, Vicky Velingkar which has been streamed on various OTT platforms. He has written and directed digital short films, TV shows, and music videos.
An alumnus of Delhi University, Mr. Saurabh Varma has been associated with mammoth companies like Reliance Entertainment, PVR Cinemas and Inox Leisure Limited before his alliance with Jio Studios in 2021.
In pre-pandemic times, people indulged in an incessant run to accomplish their immediate task; Thereby, ignoring the important aspects of life. They failed to realize that the important aspects of life are far more superior compared to the fulfillment of immediate tasks and are long-term goals.
When the pandemic arrived, there was a sudden halt in everything. "That is when you realize it is so much you can do with marketing, cinemas, films, and even consumers as they are reacting to the OTT platforms," remarks Mr. Varma in a recent interview with Icons Behind Brands, in their talk-show series Back to Basics.
Post-pandemic, there has been an enhancement in digital evolution owing to the huge shift in the mindset of people. According to Mr. Varma, "the infrastructure, the appetite for content and entertainment is growing- all these are going to impact us in a good way post-pandemic."
Over the years, the marketing industry has altered immensely. Previously, marketeers used to apply a marketing strategy called 'spray and pray' where they used to spray marketing activities all over in the form of outdoor, newspaper, radio, or theatrical publicity and create kinds of stuff like outdoor flexes for printing and installation. This demanded physical labour and was expensive even though it did not guarantee the required publicity. 
With the digital evolution, "Not only can you see how many people noticed your ad but also how many people got engaged and went and clicked that link; It will also alert you about any transaction or revenue spent on that," says Mr. Varma. This has been a big revolution and is a blessing in disguise for the marketing industry- it helps them to:
Be precise
To practice geo-targeting
To have a better understanding of their consumers
"Now, we have things to measure and tabulate the data which can make our content bigger and better," declares Mr. Varma.
Human touch and creativity are irreplaceable- it has been always been the man behind the machine. Mr. Varma feels that "team is the chief component- it was important when things were not so digital savvy to now, post-pandemic, when things are going to become much more digital-savvy; So, human resource is the most important element which will never change." 
There are various tools present but how we are putting our thought-process through those tools is what makes a difference.
When the target audience is everybody and you have to make everybody happy, that is where the biggest challenge comes up.
Entertainment and marketing are equivalent," although everybody knows what marketing and films are, it is very difficult to make or market good films because it is simple yet the most difficult part of the whole process," says Mr. Varma.
Trying and keeping on pursuing the task are the most important aspects of success which many people fail to understand and "at times decide on logos, designs, advertising campaigns, and marketing campaigns impulsively," remarks Mr. Varma. According to him, "you have to have a specific target audience and if you don't, make your target group and focus on them to create content around them."
To overcome a challenge:
Firstly, a marketeer should have the ability to listen patiently. "You have to have the ability to listen and collecting what is relevant; when you get the relevant information, you adapt it with your strategy," instructs Mr. Varma. 
Decision-making should be prompt as it is crucial for marketing strategies.
There is no alternative for experience, so, one should try to gather as much experience as one can.
Marketing is all about the evolution of new strategies. Nowadays, people are exposed to global content, so, "people are no longer going to accept lousy films with four songs and lots of action; They want a little more content," comments Mr. Varma. The patience and tolerance of the consumers have reduced drastically post-pandemic because of a huge amount of content floating everywhere. Therefore, content plays a vital part in deciding whether a film is worthy of watching or not.
Word of mouth is yet another important aspect of marketing. If one can deliver a superior product, the consumers themselves have the power to viral that product. So, a good consumer experience is of utmost importance to a marketeer.
Initially, the pizza strategy was a vital part of the marketing strategy which has been replaced by digital strategy. There is a lot to learn from the digital expansion, but "there are not too many digital agencies, at least in the entertainment space, who can do justice to this kind of marketing," remarks Mr. Varma.
The dynamics of marketing has taken an immense shift:
Firstly, a marketeer needs to be sincere in not exaggerating the clients or seniors.
Secondly, a marketeer should be prepared to accept new ideas from anyone in his professional space.
Thirdly, a marketeer should be aware of the happenings around him.
Fourthly, "understanding the psyche of a person you're addressing, whether it is your target audience or your boss is important," says Mr. Varma.
Mr. Varma suggests that an aspiring marketeer should:
Have the trait of a leader.
Gradually develop his skills.
Not be insecure of other's accomplishments but competent and aware of what others are doing.
Be adaptable.
Be mentally sound.