How is the customer's mindset evolving today? Learn from Mr. Vaibhav Mehrotra, Head of Marketing at Cashfree Payments
August 20, 2022
2022-08-20 23:30
How is the customer's mindset evolving today? Learn from Mr. Vaibhav Mehrotra, Head of Marketing at Cashfree Payments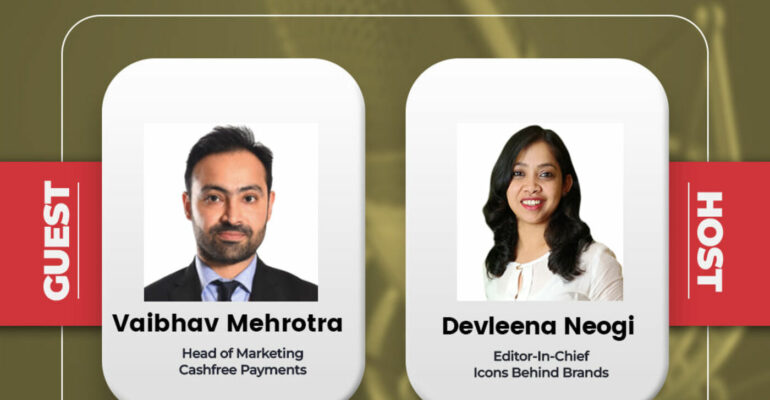 How is the customer's mindset evolving today? Learn from Mr. Vaibhav Mehrotra, Head of Marketing at Cashfree Payments
Today having a customer-centric approach to marketing is critical. As per a stat by Epsilon, 80% of consumers are more likely to buy when offered personalized experiences.
Mr. Vaibhav has a long track record of forming customer-centric marketing solutions for giant brands and with his decade-plus of experience, his insights on digital marketing and personalized marketing are not to be missed.
Mr. Vaibhav is the Head of Marketing at Cashfree Payments, a growing fintech company. Learn from a marketing head and a digital marketing expert what he thinks about SaaS marketing and digital marketing.
Check out our YouTube channel to see more video interviews with marketing experts, interviews with CEO, and CMOs: https://www.youtube.com/channel/UCcHIz92hT76EMMRO3Xxi75Q/featured
Be sure to follow our host, Devleena Neogi, the editor-in-chief of Icons Behind Brands:
https://www.linkedin.com/in/devleena-neogi-79b64816/
Visit: https://iconsbehindbrands.com/ to read quick summaries of expert marketing and business interviews
Be sure to follow us here to not miss any interviews with marketing experts and business leaders. Feel free to check out other interesting interviews with expert marketing executives
IBB is now available on YouTube, LinkedIn,  and major audio channels such as Amazon Music, Apple Music, Audible, and Spotify.
#IconsBehindBrands #IBB #SEO #marketing #digitalpresence #interview #marketinginsights #marketingexpert #digitalmarketing #digitalmedia #contentmarketing #personalisemarketing #fintech #saasmarketing #saas #onlineads