How Finance sector adapted to the pandemic and digitalization?
July 25, 2021
2022-08-18 14:39
How Finance sector adapted to the pandemic and digitalization?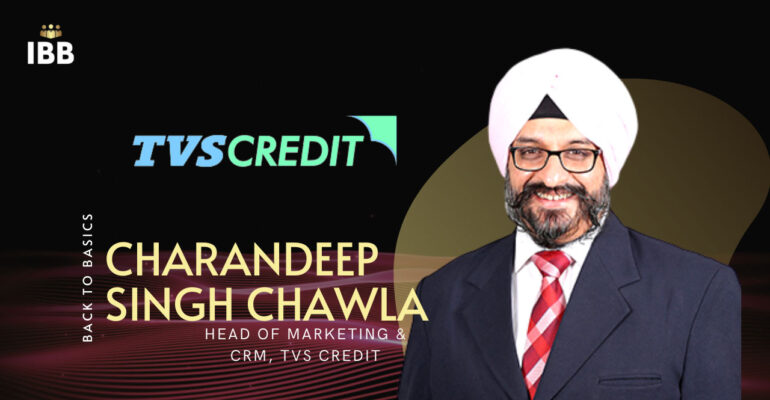 How Finance sector adapted to the pandemic and digitalization?
"The definition of Marketing has taken a great shift," says Mr. Charandeep Singh, Head of Marketing and CRM, TVS Credit Services Limited.
Ingenious, proficient, decisive, and ardent, Mr. Singh has an impeccable history with over 15 years of experience spanning across BFSI & Automobile industries and functional expertise in Marketing Strategy, Branding & Communication, and many more.
Mr. Singh has won many laurels- Flame Award for Community Empowerment & Development Initiative by RMAI, Champions of Champions (Highest number of Marketing Communication & Collateral Awards), and Gold Award – TVC (Public Service Communication) by Public Relations Council of India (PRCI).
An alumnus of Punjab Agricultural University and Narsee Monjee Institute of Management Studies, Mr. Singh has been associated with substantial companies like Mahindra and Mahindra Limited and Mahindra Finance before his alliance with TVS Credit Services Limited in 2017.
Over a while, marketing has evolved drastically. About two decades earlier, marketing was expected to create certain equity for the brand, "the metrics which will be generally checked is that how many people you are reaching out to through your initiatives and the kind of engagement you have with them; So, brand metrics play a big role" declares Mr. Singh in a recent interview with Icons Behind Brands in their Talk-show series Back To Basics.
With the advent of technology, digital marketing started rooting in India. Not only has marketing evolved in generating demands through their initiatives but also in fulfilling them. This is an important change as presently, the marketeers are not only measured on the brand measures but on several other parameters like ROI of the digital initiatives, which adds to the direct business value of the organization.
Another major change has been in the way a marketeer measures his or her marketing initiatives. This change has mainly been brought about by technology and digitization. Earlier there used to be a one-to-many form of communication, whereas now an ample number of ways are present to reach out to the customers directly. "CMO's are expected to deliver ROI on their initiatives and the silos in which customer functions existed have been melded together," informs Mr. Singh.
In the last 1 ½ years, there has been a huge change in the culture of the people and their lifestyle. People have drastically moved from the offline space to the digital space. "Our digital sourcing and NFC digital collections have gone up several times," comments Mr. Singh. 
Mr. Singh feels, "several segments of customers who have adopted digital in the last 1 ½ years maybe would have adopted 3 or 5 years later; So, the process was already started beforehand, the pandemic just catalyzed the process." Therefore, marketeers should focus on improving the UI, UX of their digital assets, thus enhancing the overall customer experience. 
The digital natives are using digital channels with other brands as well and are used to what is happening in a company's application or website, so, they do not need much of a hand-holding and are using these assets intuitively and naturally. On the other hand, for neo-digital people, it is to be ensured that the company's UI, UX is simple and suitable for them. It is not mandatory for them to be well-versed with the English language and so, "last year, we started our company's application in six regional languages apart from English" says Mr. Singh.
Voice-based features are trendy and are replacing IVRs and voice pods. Most of the UIs have to be more visual. "Not only our brand, but many other brands have also done this journey of vernacular, using visual or video content and ensuring voice is playing a bigger role," remarks Mr. Singh.
There has been a huge cultural shift in marketing. According to Mr. Singh, "if you do not give them a good experience with physical and digital touchpoints your product is not differentiated." The two important cultural aspects are:
Good customer experience needs to be given.
The purpose of the company
It is important to have good communication and a visible marker, "that you stand for something, care about your brand values and are willing to give the customer the best experience possible," says Mr. Singh.
These days, cancel culture has become dominant in India and has affected consumer-oriented applications like food delivery apps and streaming apps.
The pandemic has brought in several challenges and one such was that "your physical points closed for a certain period," remarks Mr. Singh. One of the brand values of previous credit is empathy and that is reflected in several initiatives they took the previous year. They put out transparent guidelines in terms of the moratorium and also explained how customers can avail of it and generate income in this period of uncertainty.
The key challenges faced by the companies are:
To keep the customers regularly engaged when there was no hard selling or actual transaction taking place. 
To make the UI and UX simple for the neo-digital lot, many brands had to change. 
Remote working from home offered a sense of alienation among the employees.
In overcoming these challenges, communication, branding, digital channels played a very important role.
Mr. Singh feels that digital media is the right medium for one-way advertising because:
Firstly, it fits into the company's overall goals and budgets
Secondly, the company can get a good concept of ROI through its digital campaigns. This enables the company to work on modifying its content with a consecutive round of campaigns.
Branding activities are mainly carried out through offline channels.
Digital marketing and traditional marketing are different. Mr. Singh points out, "some things remained common because both are one-way communication but the traditional marketing lacks response mechanism or interactivity which digital marketing offers you." Performing a detailed analysis of data is possible using digital marketing.
Irrespective of the growth in OTT platforms, a huge segment of people still prefers watching television or reading newspapers and magazines. There are two sides of a coin where you cannot leave one side and go ahead with another.
To keep the consumers engaged during the pandemic, TVS Credit has: 
Launched tools and services which are available omnichannel. 
Added chat box and WhatsApp service so that customers can easily reach out to the company. 
Changed the content on social media accounts and other digital assets to a more relevant one.
"Marketing is not just advertising; if you want to grow you have to get adapted to left-brain thinking and skill sets," advises Mr. Singh