How has the pandemic affected the Senior Community?
July 30, 2021
2022-08-18 14:36
How has the pandemic affected the Senior Community?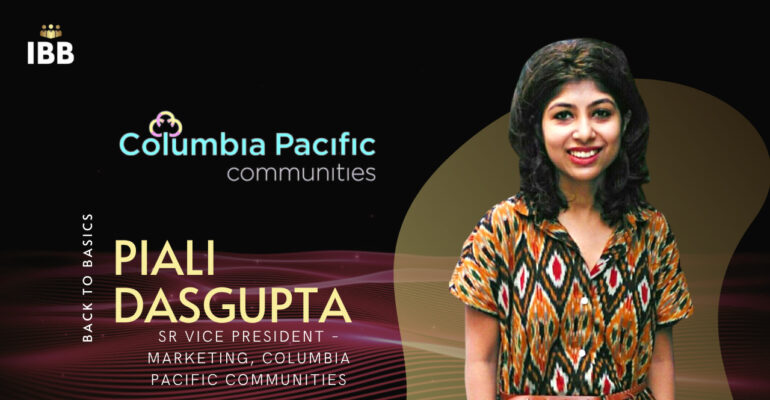 How has the pandemic affected the Senior Community?
"The seniors are fairly well-versed with the digital universe," says Ms. Piali Dasgupta, Senior Vice President-Marketing, Columbia Pacific Management Inc.
Ms. Dasgupta is an acclaimed marketing and communication leader with over 14 years of cross-division expertise across media, e-commerce, retail, and real estate. She is skilled in many trades like brand driving and brand architecture. 
Ms. Dasgupta has been felicitated by multiple awards including Woman Marketer of The Year 2020 – Mcube (Masters of Modern Marketing) Awards and Exchange4Media Content – 40 under 40 among others.
We are inspired by her success stories which drove her to be a guest speaker at IIM Shillong and IIM Ranchi and a celebrated Jury member at various occasions and events.
Creative, innovative, and tenacious, Ms. Dasgupta is an alumnus of Bangalore University and has worked with substantial companies like the Hindu, Amazon, and Myntra.com before her alliance with Columbia Pacific Management Inc. in 2020.
The last 15 months have been challenging for any business. Particularly with senior living, Columbia Pacific was dealing with the demographic that was the worst hit. The pandemic made it all the worse. In the first wave, the seniors were considered to be the most vulnerable as far as the virus was concerned due to their low immunities and more susceptibility to getting infected by the virus.
Columbia Pacific has nine communities for senior consumers across the south of India. The biggest challenge was to ensure that the communities were safeguarded- the residents were safe and were operating within a very protected environment under watchful eyes. 
The residents of the communities had children spread across the globe who expressed tremendous gratitude to the kind of services given to their parents by Columbia Pacific and was relieved to know that their parents are in safe hands. 
All the guidelines and protocols of WHO were implemented to ensure the communities were ring-fenced and no outsider was allowed to come inside the community.
At the beginning of the pandemic, people were seen struggling to cope with the new way of living life because they had no idea about its whereabouts. The senior consumers were not able to interact with their children or relatives physically, which would make them feel isolated and hopelessness prevailed everywhere. Columbia Asia ensured that while being physically distant, they were socially connected by organizing digitally empowered activities inside the community.
"We launched an initiative called 'The Living Room' on Facebook, a live session where senior consumers can have a conversation with experts, test makers, and celebrities from the comfort of their living room," informs Ms. Dasgupta in a recent interview with Icons Behind Brands in their Talk-show series Back To Basics.
During the pandemic, brands tried to spread positivity and enthusiasm among their customers through campaigns. Columbia Pacific has created 27 award-winning campaigns like Love Not Label, Reach Out, and Love Beyond Age. 
"The primary objective of every campaign is to take our brand philosophy of positive aging ahead, the awards are an outcome of the good work we do," remarks Ms. Dasgupta as also, "it is what defines our every action, sets the tone for everything we do, and determines our service philosophy." 
Positive aging is a philosophy that begins by looking at age as just a number. It helps seniors live a life that is healthier, happier, stronger, more connected, and agile. For a long time, seniors have been neglected and were not a part of any kind of popular culture and mainstream conversation. These initiatives/campaigns help in empowering seniors and challenging the stereotypes that exist in our society. 
The pandemic has been a tremendous amplifier in triggering the need for senior living communities among senior consumers. Five years ago, they looked at it as an option that may or may not be considered but nowadays, it has become an exigency.
Over the last few years our economy has grown, and more people in the age bracket of 20-40 years, have left their homes to pursue their careers in other regions of the country or have migrated to other countries as well. This has left many seniors lonely in their hometowns forcing them to consider senior living communities as an option. 
"Living in a community where their day-to-day needs are fulfilled lets them focus on what they want to do- like reconnecting with their hobbies or passions," says Ms. Dasgupta. There is immense pride in living life independently- to take charge of their own lives and to lead the life they have always wished for. 
Unfortunately, we have not yet been able to completely wipe off the stigma or the misconceptions prevailing in society. Children of the senior consumers do not wish to abandon their parents while a large number of people still liken senior living to old age homes not realizing their differences. To make this more relevant among the people, a lot of awareness needs to be created around this category.
The seniors are quite digital-savvy and are available on almost every social platform present out there. Their knowledge of WhatsApp, E-mail, and Facebook helps brands connect to them easily. This is yet another misconception people have about seniors being uncomfortable with the digital evolution. 
Columbia Pacific has always been a digital brand first, even before the pandemic hit us. The brand does not believe in spillage or massive wastage but efficient marketing. 
"We found the digital in terms of ROI and ROAS, who have been the most hardworking channels for us," informs Ms. Dasgupta. Columbia Pacific has done several print and radio campaigns and was the first to introduce a video campaign in the real estate sector.
"For a category like us everything is about emotions; If you take the emotion and the EQ out there is nothing left, you cannot sell senior care or senior living with just data," says Ms. Dasgupta. 
According to Ms. Dasgupta, the principles that need to be followed during the period of crisis:
Listen to the customer.
Have your ear to the ground.
Take cues from the market sentiments.
Lastly, Ms. Dasgupta emphasizes the need to prioritize one's mental health to lead a healthy and stress-free life.