How has the pandemic influenced the FMCG and Pharmaceutical Industries?
July 20, 2021
2022-08-30 8:42
How has the pandemic influenced the FMCG and Pharmaceutical Industries?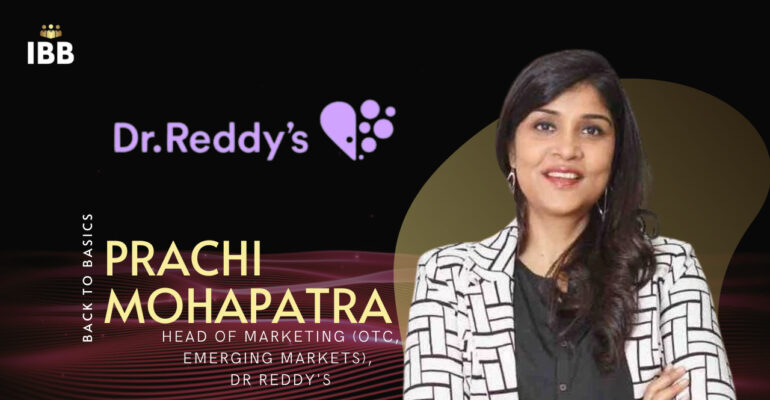 How has the pandemic influenced the FMCG and Pharmaceutical Industries?
"Brand is the personification of an idea," says Ms. Prachi Mohapatra, Marketing Head- OTC and Emerging Markets at Dr. Reddy's Laboratories. 
Liberal, ardent and innovative, Ms. Prachi Mohapatra is a business-oriented marketing head with a keen interest in brand and business building. She has worked in large-sized companies to start-ups with various segments like FMCG, Beauty, and Personal Care.
Ms. Mohapatra has worked with mega-giant companies like Future Group India, Oriflame Cosmetics, and Mary Kay Cosmetics before her alliance with Dr. Reddy's laboratories in 2021.
During the pandemic, there has been a huge shift in consumer behaviour, cultural change in people's minds and their lifestyle. People have drastically moved from the offline space to the online space. 
"What every parent is worried about is that every kid is outgrowing what they entered the pandemic situation with," says Ms. Mohapatra in a recent interview with Icons Behind Brands in their Talk-show series Back To Basics. There has been an increased demand for sleepwear because that is what people have been living in all through the pandemic.
Post pandemic, there has been excessive pressure on the people in any kind of negative situation with the virus. When the stores opened up, people were not allowed to browse through the clothes and were only allowed to take two clothes into the trial room to try. So, they were forced to stay in the digital space and do a pick and choose and then finalize the product. Later on, if they did not like the product, they had the option to return it.
Industries have been struggling to get the E-commerce space and the pandemic has hastened the process. In post-pandemic times, people will look for ease and safety regardless of whatever they buy.
"Content marketing is your face to what you are trying to say to your customers," remarks Ms. Mohapatra. What and how a matter is said is what shapes up the content. When one wants to deliver his or her content to the customers, generating an empathetic mode is of prime importance. In content marketing, one will have to wave in his or her structure and conversation around what is the ask of the consumer.
When we entered into the pandemic, most of the people felt comfortable visiting their nearest chemist stores to pick up the over-the-counter medicines for themselves. In general, chemist shops are one of those places which should be avoided because they can become the hub of infections. 
FMCG brands or the pharmaceutical industry are comparatively less attracted to the digital face conversation compared to the Retail and E-commerce space primarily because they do not front-face the customers from an outlet point of view but a brand point of view.
FMCG companies build up their story by having a heart tug and a conversation with the consumers. 
In the pharmaceutical sector, "we have always interacted with consumers when they turned patients," informs Ms. Mohapatra. It is advisable to start interacting with the people before they become patients, advising them on wellness and immunity. Thereby, generating positivity among the consumers. 
It is important to understand the needs of the consumers and then, go ahead with the conversation rather than a hard-selling approach. 
Post pandemic, the channel mix has altered completely. While the industries were struggling with 4-5% of E-commerce sales in the huge strata of things, nowadays, it is hovering close to 10-15% for some of the brands.
It was said that behavioural changes happen over decades, but the pandemic has shown us that it can occur over a few weeks or months. When the situations improve, some of the behavioural changes will go back to normal. 
The behavioural changes of a particular segment of consumers will be permanent; in the world of video demand generation, some cord-cutters have moved from the DTH segment to the Netflix and Amazon space.
There will be floaters lying in between and a segment of consumers who would go back to the usual ways.
"For us, as marketeers, it is mandatory to be able to view the change in trend," remarks Ms. Mohapatra. Earlier research was done on trend analysis while "this entire situation is showing us a trend for us to be able to deliver and derive what is seen from the entire trend."
A number of the senior consumers have effectively shifted to E-commerce, but once things start to open up, they would like to retrieve their pre-conditioned life.
Marketing is the most dynamic part of the business and "it is a thrill for a businessperson or marketeer to be able to judge how consumer behaviour is going to change," says Ms. Mohapatra. The basic root of marketing will always remain the same.
"It gives us a deep satisfaction when we invest in people," says Ms. Mohapatra.
In the pharmaceutical sector, product development can take up to five to seven years.
The pandemic has seen businesses shut down, "if you are not nimble-footed or not wanting to find the right balance of what is working then it will always be very late and you will be update outdated within months," remarks Ms. Mohapatra. The consumer is changing and becoming intelligent with every passing minute.
According to Ms. Mohapatra, having innovation in media and digital space is very important as technology helps us to move faster and find solutions easier. Start-ups get easily nimble-footed because the load on them is less; They have a smaller number of employees and fewer stakeholders, so they can move and adapt faster.
The big organizations find it difficult to get nimble-footed because they have many experienced people working for them. They do not wish to give up on their human resource easily.
Beauty, Personal Care, and Fashion are the sectors of the industry that indulge in influencer marketing.
As a marketeer, one must follow certain norms:
Be kind to yourself and be proud of what he or she has achieved as there is no end to achievement.
Be focused on asking the right questions and not finding the right answers.
Be positive towards his life and work.