How has the pandemic transformed the Entertainment Industry?
July 10, 2021
2022-08-18 14:46
How has the pandemic transformed the Entertainment Industry?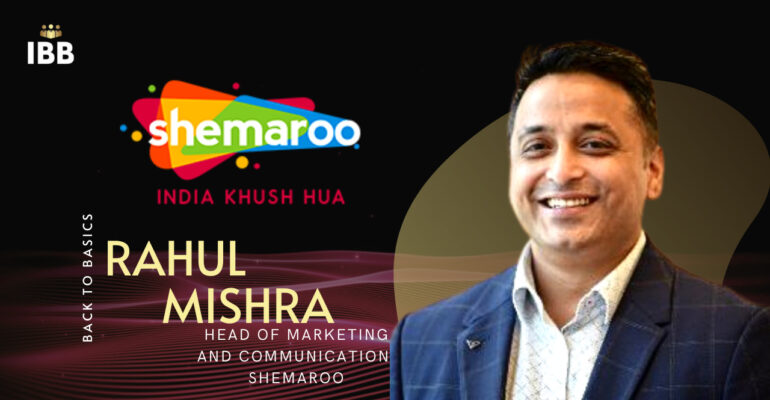 How has the pandemic transformed the Entertainment Industry?
"Shemaroo is the first brand to introduce binge-watching for the country," says Mr. Rahul Mishra, Head of Marketing, Shemaroo Entertainment Limited.
Mr. Mishra is a seasoned Marketing professional, who has helped brands excel in the Media and Entertainment sectors. He is a leading visionary and has been instrumental in shaping Shemaroo's brand and identity wherein the company rebranded itself after 55 years with a new brand logo and tagline, "India Khush Hua".
An alumnus of INSEAD, Mr. Mishra has worked with substantial companies like IndiaCast Media (a TV 18 and Viacom 18 venture), Cineplay, and BBC Global News before his alliance with Shemaroo Entertainment Limited in 2017.
Shemaroo is an iconic Indian media brand in existence for 59 years. With the revival of interest to make Shemaroo a bigger brand, the first thing that needs to be done is to make the brand connect with the audience of today. With the changing taste and preferences of Indian consumers, it is important to make the company relevant for them.
Shemaroo partnered with Ogilvy and Mather for advertising in the journey of rebranding. "We are the entertainment company for the masses, we have no claims about it," remarks Mr. Mishra in a recent interview with Icons Behind Brands in their video Talk-show series Back To Basics.
The tagline 'India Khush Hua' is an essentially forward-looking and bold tagline where Shemaroo is trying to convey that entertainment is offered by them for anybody who has an interest in Indian content. "If you like some other content, Shemaroo is not the place for you," says Mr. Mishra.
When a company becomes a consumer brand, a lot of communication needs to be crafted, "we communicated it so well, and then we unveiled the logo and the tagline, which received great acknowledgment across consumer sets, eventually winning multiple awards in the due course," says Mr. Mishra.
A brand requires aligning your internal team, internal communication, and also consumers. Putting that vision in line with the communication and keeping the connection with the consumers, is where Shemaroo has worked. Re-branding is a make-or-break situation for any brand.
During the time of prevailing uncertainty, marketeers had to navigate a very different landscape. In the past 1 ½ years, there has been a significant amount of introspection and a lot of exchange of information in the Entertainment Industry.
There were three major shifts during the pandemic:
Firstly, there was a sudden shift in content consumption, as entertainment became a necessary product to the consumer. In the pre-pandemic times, entertainment was never a necessity for everyone.
During the pandemic, people were locked up in their homes where entertainment played a very important role in everyone's lives.
The sudden shift in media consumption led to a new set of audiences coming to many media outlets and brands. From a broadcast-oriented media entertainment where the content was created for a set of audiences who would watch it at a predefined time, there came content on-demand of the consumers.
Secondly, the media industry was affected significantly by the revenue decline as well. While the consumption of content was increasing, the advertising spends dropped down drastically. During the lockdown, not many purchases were happening, which impacted many advertising-led brands severely.
The ticketed events like live events, concerts, sports entertainment, and movies in theaters suffered badly.
The only place where there was an increase in revenue was on the subscription-based businesses which became a centre-stage quickly in the Indian media landscape.
Thirdly, fueling of media and entertainment industry which is content. The content supply was scarce because no shoots were happening. So, people looked at the library and rehashing contents.
There was a sudden shift in consumer behaviour during the pandemic. "We embraced digital very quickly, we are in a way a digital media organization," informs Mr. Mishra.
Shemaroo had to create new concepts of content consumption. Afterward, they had to communicate that to the audiences- to get them on board to newer experiences such as transaction VOD where one can pay for the content or offer them new genres.
During the pandemic, communication played a major role in assisting Shemaroo to become a consumer brand while the digital space opened up more opportunities for them. Across media, marketeers have looked at newer avenues and channels to speak to their audiences which were undiscovered earlier.
Shemaroo put consumers in the forefront and tried to understand what the consumers were thinking and communicated accordingly; This proved highly beneficial to them, "the more open we are as a brand, what we stand for and what we are trying to bring to our consumers, the consumers would embrace that more," says Mr. Mishra.
During the lockdown, no prints were being circulated or opportunities to visit outdoor theaters. Hence, Shemaroo decided to launch a full-blown Hindi general entertainment channel called Shemaroo TV on the 1st of May, 2020. "We became the first channel in the world to live stream and launch on Facebook," says Mr. Mishra
Along with this, Shemaroo did multiple innovations and initiatives in their OTT space. They entered the regional space with a promise of new content every week. "Brands which communicate during a crisis come out much stronger than those who do not," informs Mr. Mishra.
In ShemarooMe, an application launched during the lockdown by Shemaroo, the first message to the consumers was to sanitize their mobile screens because mobile phones are the biggest carrier of germs and infections.
To overcome the key challenges,
Always have a very agile mindset– Plans give you a directional indication of where you are headed but always be open to taking a different course.
Have a crisis plan in place– The consumers are always evolving and nowadays, due to the digital expansion, customers have become extremely vocal. This is a good chance for a marketeer to understand the consumers and embrace customer feedback to implement their marketing plans.
From a marketing point of view, the biggest challenge has been embracing the new media mix to interact with the consumers.
"There is room for everybody to succeed, so one must not limit their thinking with one act; It is a journey," says Mr. Mishra.