Strategies to overcome the pandemic-laiden crisis in Automobile Industry
July 5, 2021
2022-08-30 8:45
Strategies to overcome the pandemic-laiden crisis in Automobile Industry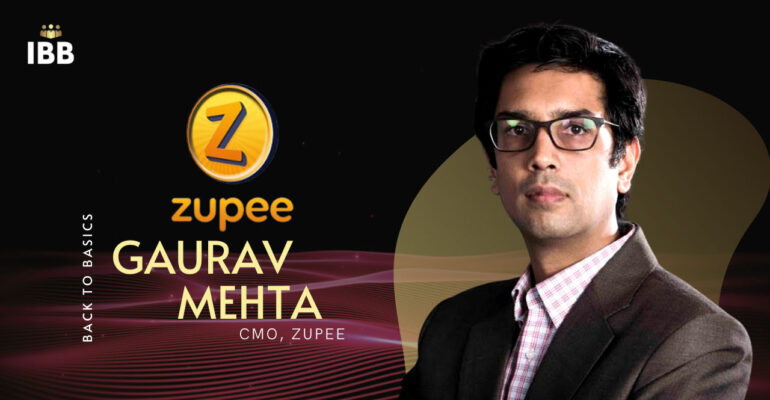 Strategies to overcome the pandemic-laiden crisis in Automobile Industry
"Every used car or every car has a lot of value provided it has a great person behind the wheel," says Mr. Gaurav Mehta, Chief Marketing Officer (CMO)  at Zupee. 
A brilliant leader with high integrity standards, Mr. Gaurav Mehta, is an analytics and research-driven marketeer and has been in mobile marketing since 2008. 
Mr. Mehta carries with him a work experience of nineteen years including thirteen years as the leading Digital Business Expert in India. He has been associated with mammoth companies like Yahoo (Chief Manager), OLX (Chief Marketing Officer), and GirnarSoft (Chief Marketing Officer) before his alliance with Zupee in 2021. GirnarSoft is the colossal Autotech group in India with brands like CarDekho, Gaadi.com, Zigwheels, BikeDekho, and Auto.com. 
Mr. Gaurav Mehta was felicitated with the 'Marketer of the Year' award by  exchange4media Indian Marketing Awards in 2015 and Power Profile by  LinkedIn in 2016. He was also recognized as 'Forty under Forty' by  exchange4media Group in 2018 and 2019. 
An avid reader of politics, economics, and history, Mr. Gaurav Mehta is acknowledged for his extraordinary written communication skills, warm accessible persona coupled with his intelligence and charm. 
When the pandemic struck, it gave rise to a new world altogether. People's mental status changed from optimistic to extremely pessimistic owing to the prevailing disquietude. There was also an alter in media and consumption. The automobile industry went through a tough turmoil with huge churnings. 
In an interview with Icons Behind Brands in their Talk-show series Back 2  Basics, Mr. Mehta points out that, "during the pandemic, certain kinds of  storytelling became obsolete because people were not willing to watch hard-selling stories or brand messaging only to be replaced by empathetic 
storytelling or brand messaging; brand messaging needs to learn how the  perceptions are shaping in the mind of the consumers and what are the  factors affecting it." 
"One theory of Behavioural Economics is that human beings tend to avoid losses. The insurance sector uses this theory beautifully in their brand messaging," comments Mr. Mehta. 
Several challenges are faced by a marketeer. Mr. Gaurav Mehta states that  "Marketing is one of the most dynamic business functions in the world where technology has a vital role to play and that held us in good stead as pandemic hit the country and the world,". Being a marketeer requires prompt upscaling of oneself inherently and fundamentally, which is thoroughly observed by Mr. Mehta and his team.  
April 2020 was the first month in the history of India when not a single automobile was sold. According to Mr. Mehta, "From an average sale of 3  lakhs cars,15 lakhs bikes and 3.5 lakhs used cars a month in the country, it all went zero".  
During the pandemic, there were obstacles which the company had not  experienced before and as Mr. Mehta has phrased, "we were constantly  upscaling ourselves and keeping consumers at the centre of whatever we  were doing we were able to understand that it is not the time for hard selling  or a certain kind of narrative and then we started communicating to make  sure we as a brand were contributing to the mental well-being of the  consumers; we were trying to educate the advantages of personal mobility  so that's safe and trusted mode of transportation as and when the lockdown  was withdrawn." 
The automobile is a huge sector which had been badly hit but in the long term, it would prove beneficial for personal mobility where people will buy more used cars, new cars, and two-wheelers to make sure they have at least one trusted mode of transportation.  
Mr. Mehta and his team ensured that all the queries of the consumers were answered on time to help them make better and informed decisions. They implemented content initiatives, moulded certain products to digitize a lot of offers and touchpoints, and ensured people's safety through digital mediums.
"One of the reasons for us to be the largest auto tech is that we are a  publisher- we are in the business of creating our editorial content by a very well qualified team of automobile journalists who test-drive all cars and bikes in the country and then write their verdicts on it; They help people choose through content which is the car or bike for them," says Mr. Mehta.  
Last year during the lockdown, Mr. Mehta and his team had released motivational, light-hearted branded content written by the notable poet/author Vineet Panchhi in a ten-video series called "Zindagi ki gari chalti rehni chahiye" to help people rise above negativity. The video went viral over WhatsApp in no time even though they had not spent any money on media marketing. 
The same year around Independence Day, when people were more assertive,  Mr. Mehta and the team released a branded content which was about the  Asal-Uttar battlefield of 1965 to lift people's spirits. 
The last branded content that was released in April 2021, offered a very simple solution to make people understand that there is an elderly car driver behind the wheel by putting an 'E' sign on the window. As Mr. Mehta puts  it, "If there is an 'E' understand there is an elderly driver and once you get  that cue that is already included in our decision-making abilities because  when you see 'L' or any other sign you just give them space." This initiative  went viral in no time: "it is just the strength of the idea and people responded  to it."  
"We saw business improving because of branded content" declares Mr.  Mehta upon seeing an increased number of people exploring CarDekho. Mr. Mehta asserts that "We have to understand that we are not a business and  they are not like consumers, we are a part of society, if we do good, they  respond; All of us add value to each other." 
According to Mr. Mehta, "the most important thing is not to find the  solutions to find the problem but what is the right problem to solve and data  helps us a lot in doing that; Data is the best way to validate your right  questions as it keeps us humble by telling us newer stories every day."