'Hello Kids', a Brand making Learning a Fun Experience for Tiny Tots
March 2, 2020
2022-09-01 3:47
'Hello Kids', a Brand making Learning a Fun Experience for Tiny Tots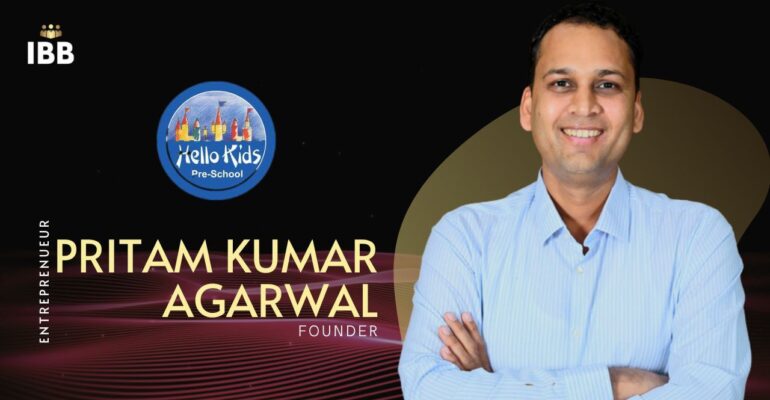 'Hello Kids', a Brand making Learning a Fun Experience for Tiny Tots
This pre-primary education chain is celebrating early childhood with learning, has established over 630 preschools in India and has big plans!
In our recent interview with Pritam Kumar Agrawal, he spilt the beans.
"You have to love what you do", says Pritam Kumar Agrawal, Founder Director at Hello Kids Education India Private Limited.
To make quality education accessible and affordable to all children, Hello Kids was established in the year 2005.
Though getting here was a bumpy ride for Agrawal, he always aimed at doing something different. It is when he was pursuing B. Com from Delhi University is when he started developing a keen interest in the education sector.
He added, "Education in the early years is always important for the overall growth of the child".
After completing MBA from IIPM, he stated "There was a little pressure from my family because everyone wanted to see what I could do. Now was the time when I had to prove myself".
During this time, Agrawal even spent some time with his brother in the UK. Having done several jobs during this stint, he added "You have to do jobs to understand your interests".
A passing dream turned into a reality when he got back and expressed his desire to his father about venturing into the pre-primary education sector.
"Initially, I wanted to set up my first pre-school in Orissa because of its great connectivity and location. I felt this would be the perfect setup for a residential school. Owing to lack of experience and investment, I decided to keep it on stand-by", added Pritam.
After travelling across the nation with his father, he decided to lay the foundation of his first pre-school in Bangalore.
What started with one branch has now expanded into a 'no royalty based chain of pre-schools and is one of the largest chains of pre-schools in India.
Pritam reiterates "It is all about learning from experiences."
Talking about the acceptance of his pre-school model in tier-3 and tier-4 cities, he added "The acceptance was very fast because options over there were limited and the fee offered by us was low".
"More than providing fancy equipment and infrastructure, we wanted to create a good middle-class school where at the end of the day, parents were satisfied that their child has received good learning".
Talking about his professional mentors, Pritam revealed "I used to follow Abdul Kalam a lot and read his books".
Further in the interview, Pritam attributed much of his success to his life and business partner, Sunita Jain, Director of Operations, Hello Kids. "She has helped me every step of the way in my journey", he added.
Revealing the toughest part of building a brand, Agrawal mentioned "If you want to grow, you have to have a dynamic strategy every day".
With 630+ pre-schools in India and Bangladesh, six K12 schools and a growth plan expected to cross 1000+ pre-schools by 2020, Pritam is happy that parents are approaching them and believing in their unique model.
Just like any brand needs marketing to survive, Pritam added that in his case he has learned a lot from Facebook and Google. He also said, "Marketing is all about how much effort you're putting in. Word-of-mouth is something that has worked in our favour. We've hardly moved out of the office to sign-up franchisees, people have come to us".
Giving out his marketing mantra, Pritam said "Till you don't Plan, Target and Budget, you can't achieve anything".
In his closing statement dedicated to aspiring brand managers, Agrawal stated "You need love, brain and skill to succeed. I urge people to travel more to learn".