Interview on the expanding the horizon of marketing, knowing more about leadership with Ms. Maya Venkatesh Managing Director, APAC – Affinity Answers, IBB
August 6, 2022
2022-08-06 23:30
Interview on the expanding the horizon of marketing, knowing more about leadership with Ms. Maya Venkatesh Managing Director, APAC – Affinity Answers, IBB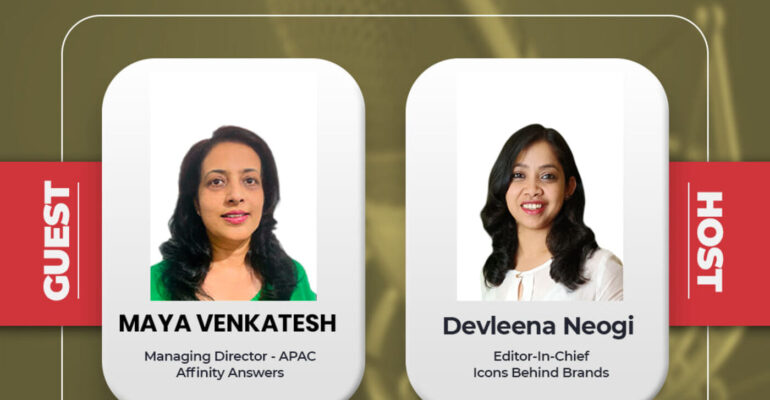 Interview on the expanding the horizon of marketing, knowing more about leadership with Ms. Maya Venkatesh Managing Director, APAC – Affinity Answers, IBB
Our conversation with Ms. Maya Venkatesh, Managing Director, APAC – Affinity Answers, is out now! 
What is managerial leadership?
How to run your brand efficiently?
In this episode, How does the concept of growth market work?
Know it all with Ms. Maya, who has 25 years of experience and continues to be a multifaceted and motivated leader.
She has also handled the leadership roles at premier MNCs like Symphony Services.
Join us and grab the best possible marketing tips from this learning hour !!
Check out our YouTube channel to see more video interviews with marketing experts, interviews with CEO, and CMOs: https://www.youtube.com/channel/UCcHIz92hT76EMMRO3Xxi75Q/featured
Be sure to follow our host, Devleena Neogi, the editor-in-chief of Icons Behind Brands:
https://www.linkedin.com/in/devleena-neogi-79b64816/
Visit: https://iconsbehindbrands.com/ to read quick summaries of expert marketing and business interviews
Be sure to follow us here not to miss any interviews with marketing experts and business leaders. Feel free to check out other interesting interviews with expert marketing executives
IBB is now available on YouTube, LinkedIn, and major audio channels such as Amazon Music, Apple Music, Audible, and Spotify.
#customerservice #successtips #entrepreneurship #management #affinityanswers